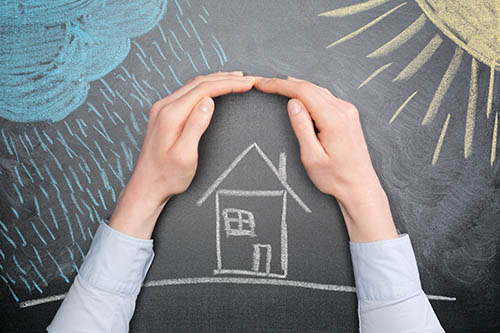 Every insurance policy is different and can provide certain levels of protection tailored towards the needs of the policy holder. However, there are some standard types of coverage that are included in most basic home insurance policies.
Basic Levels Of Protection
Most homeowner insurance policies will include some basic levels of protection and coverage. The main dwelling will be protected from many forms of damage and the insurance company will pay to repair the damaged dwelling. This will extend to other smaller structures on the property, like sheds and separate garages, but the level of coverage will differ.
Damage is one important aspect of insurance, but protection for personal belongings is equally important and is also included in a standard home insurance policy. The monetary value of items in the home will be covered in case of damage or theft, so it's a good idea to keep track of valuables. Every insurance company will have a different limit on the amount covered, so it's wise to compare the value of belongings against the level of coverage.
The third aspect of home insurance policies is liability protection. This will cover any personal injuries that are incurred on the property by people who do not live there. It may seem silly, but having protection in case of a lawsuit can go a long way to saving a family financially as attorney fees and medical bills add up.
What Is Not Included?
Although each insurance company has different policies that cover different parts of the home, almost all of them do not include one important aspect in their policies. Damage caused by floods, earthquakes and war will not be included in most standard home insurance policies and may be important depending on the geography of the area.
Another important note is that flood damage does not just apply to natural flooding in the region, but will also include water damage from broken pipes or backed up sewage lines. It's an important distinction because many first-time home owners assume this water damage will be covered under their basic insurance policy.
The right insurance policy can be difficult to figure out for first-time home owners. There are many questions to ask about the property to determine the right policy and it's a good idea to consult your local mortgage professional to get their insight into what additions may be needed.