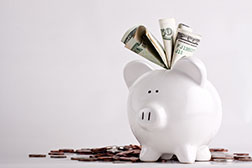 For many people, investing in a house is one of the most important purchases they will make in their lifetime. However, alongside having the comfort of your own home, there are many financial benefits associated with buying in. If you're currently perusing the market for opportunities, here are some reasons to consider investing a little sooner.
Get Away From Inflation
If you have an adjustable-rate mortgage, your interest rates will certainly fluctuate from time to time, but owning a home actually allows you to guard against the reality of inflation, which can be a significant burden as a renter. While the price of housing and apartment rentals can rise considerably with inflation, your monthly mortgage cost will be relatively fixed.
Hold On To More Of Your Money
Renting may be an easier financial obligation than home ownership, but the money you invest into a home each month contributes to your equity, and this is a benefit for your financial future. While rent money will be gone when the month is over, equity provides a consistent means of building wealth.
Buy At A Lower Price
The cost of home ownership may vary around the country, and while it's certainly climbing in many urban centers, home prices are lower overall. This means that, instead of having to scrounge for a down payment, you'll be able to invest a little less and maintain a better bank balance.
Cue The Tax Breaks
Many people hold off on home ownership because of the costs of property tax and maintenance, but there are financial boons outside of the money you invest. When tax time comes, you can receive tax deductions for costs like mortgage interest, property taxes and even private mortgage insurance that make buying in a little easier to bear.
Own A Rental Property
Whether you are a first-time buyer or you've delved into the market before, having a home in an up-and-coming neighborhood can also be an option, as this will enable you to rent it out and reap the financial rewards. While this may be a more feasible option later on in life, it can be a means of substantial additional income.
Many people hold off on owning a home because of all the associated costs, but it can be of benefit to buy into the market earlier to reap the financial rewards. If you are currently considering home ownership, contact one of our mortgage professionals for more information.