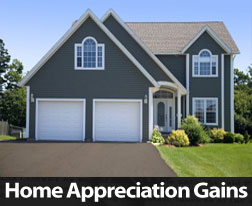 Home prices were 5.70 percent higher year-over-year in January according to S&P Case-Shiller's 20-City Home Price Index. Top year-over-year gains were posted by Portland, Oregon at 11.80 percent, San Francisco, California at 10.80 percent and Seattle Washington posted a year-over-year gain of 10.70 percent. Denver, Colorado, which had top gains in recent months, posted year-over-year home price growth of 10.20 percent.
Lowest year over-year gains for January were posted by Chicago, Illinois at 2.10 percent, Washington, D.C at 2.20 percent and New York, New York at 2.80 percent.
Average home prices remained about 12 percent below their summer 2006 peak, but have recovered to 2007 levels.
Rising Home Prices and Short Inventory of Homes Impacts Buyers and Sellers
David M Blitzer, Managing Director and Chair of the S&P Indices Committee expressed concerns over rapidly rising home prices and the shortage of available homes. Mr. Blitzer said "would-be sellers seeking to trade up are having a hard time finding a new larger home." Analysts also noted that home prices are escalating faster than wages, which were growing at a rate of 2.20 percent annually as of February.
New construction is not keeping up with demand; the current supply of available homes is below the normal six month inventory. Mr. Blitzer said that home building is the segment of the housing sector that creates economic growth.
Rapidly rising home prices and low inventories of available homes are potentially sidelining first-time and moderate income buyers. This trend also sandwiches homeowners who want to buy larger homes between a short supply of available homes and finding qualified buyers for their current homes. Mr. Blitzer said that high amounts of education debt and consumer debt are contributing to younger buyers' inability to qualify for mortgages. Mortgage lenders have loosened mortgage qualification requirements somewhat, but Mr. Blitzer said that lenders haven't forgotten what happened 10 years ago; they remain reluctant to further ease lending requirements.
Pending Home Sales Rise in February
In related news, the National Association of Realtors reported that pending home sales rose 3.50 percent in February as compared to an expected reading of 1.80 percent and January's negative reading of -3.0 percent February's reading for pending home sales was the highest in seven months.
Analysts and real estate pros use pending home sales readings s as indications of future closings and mortgage loan activity.
NAR Chairman Lawrence Yun cited lower mortgage rates as the driving force behind February's jump in pending home sales. Mr. Yun said that building more homes is essential for boosting home sales; he cautioned that failure to increase the current supply of available homes could cause home sales to "plateau."