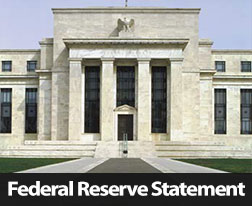 The stage was set in high suspense for FOMC's post-meeting announcement on Wednesday. As fall approaches, analysts and the media are looking for any sign of when and how much the Fed will raise its target federal funds rate. According to CNBC, some analysts were projecting two interest rate hikes before year end, but the truth of the matter remains unknown until the Federal Open Market Committee announces its intentions.
Meanwhile, reports of what Fed rate hikes will mean for consumers were released prior to the FOMC statement. Real estate analyst Mark Hanson said that a rate hike would "crush" housing markets, which continue to improve slowly in spite of the current 0.00 to 0.25 percent federal funds rate.
Last Friday's report on June sales of new homes shows unpredictable progress in housing. Analysts estimated that new home sales would reach 550,000 units based on May's reading of 517,000 new homes sold. June's reading came in at 482,000 units sold.
FOMC Statement: Current Federal Funds Rate "Remains Appropriate"
The Federal Open Market Committee of the Federal Reserved announced as part of its post-meeting statement that it would not immediately increase the federal funds rate. The FOMC statement cited concerns over the inflation rate, which remains below the Fed's goal of 2.00 percent. According to the statement, the FOMC will not move to raise the federal funds rate until the committee is "reasonably confident" that inflation will achieve the committee's goal of 2.00 percent over the medium term.
No prospective dates for raising the target federal funds rate were given. The FOMC statement repeated language included in previous statements indicating that committee members anticipate that economic events could further postpone increases in the federal funds rate. The FOMC statement asserted that committee members continue to monitor domestic and global financial and economic developments as part of the decision-making process for raising the target federal funds rate.
FOMC members agreed that policy accommodation may be required "for some time" after the committee's dual mandate of maximum employment and 2.00 percent inflation have been achieved. This suggests that FOMC members are not in a hurry to boost rates when economic uncertainty remains.
In terms of housing markets, the Fed's decision not to raise rates likely caused a sigh of relief as rate increase would have caused consumer interest rates including mortgage rates to rise.