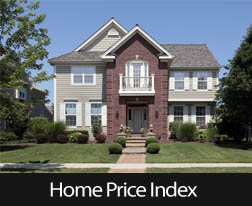 According to the S&P Case-Shiller Home Price Index report for January, home prices grew by 4.50 percent year-over-year as compared to January 2014's year-over-year price growth rate of 10.50 percent. This was the lowest rate of home price growth since 2012.
Analysts said that although slower growth in home prices could be good news for home buyers, national wage growth is not keeping pace with home price growth. The Labor Department reports that wages are growing at an annual rate of approximately two percent. Other obstacles to home buyers include strict mortgage standards and likely increases in mortgage rates during 2015.
Highest and Lowest Home Price Growth Rates in January
The S&P Case-Shiller Home Price Index reports that January's five highest rates of year-over-year home price growth were:
Denver, Colorado – 8.40%
Miami, Florida – 8.30%
Dallas, Texas – 8.10%
San Francisco, California – 7.90%
Portland, Oregon – 7.20%
The five cities with the lowest year-over-year rates of home price growth were:
Chicago, Illinois – 2.50%
Minneapolis, Minnesota – 2.20%
New York, New York – 2.10%
Cleveland, Ohio – 1.60%
Washington, D.C. – 1.30%
No cities included in the 20 city index recorded no or negative growth rates on a year-over-year basis. David Blitzer, S&P Index Committee Chair, cited growing labor markets, current low mortgage rates, lower fuel prices and low inflation as positive influences on U.S. housing markets.
The Case Shiller 20-City Housing Index report for January was also impacted by severe weather conditions that reduced demand for homes. The 20-City Index has climbed by 29 percent since reaching March 2012 lows.
Pending Home Sales Rise
In other housing related news, pending home sales indicate that home sales are increasing as the peak spring and summer buying season gets underway. The National Association of Realtors® reported that its pending home sale index reading increased by 3.10 percent to 106.9 in February.
This was the highest reading since June 2013 and was up 12.00 percent over February 2014. Pending home sales are sales for which a contract has been signed, but the sale has not closed. Pending home sales are considered an indicator of future home sales.