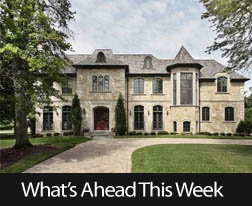 In addition to weekly reports on mortgage rates and new unemployment claims, last week's economic news included the Fed's Beige Book report, retail sales and consumer sentiment. January's Empire State Index showed an unexpected dip and Consumer Sentiment increased for January.
Fed's Beige Book Shows Diverse Economic Trends
According to the Federal Reserve's Beige Book report for January, the central bank's business contacts reported strength in housing, while agriculture, energy and manufacturing sectors were struggling. New York's Empire State Manufacturing Index for January supported this trend with a sharp drop. New York manufacturing has hit its lowest level since the recession and has stayed in negative territory since March 2009. Two analysts said that the Fed's recent rate hike and subsequent hikes could slow housing markets. Consumer lending rates, including mortgage rates, typically follow suit when the Fed increases its target federal funds rate.
In other news, retail sales posted negative growth of -0.10 percent in December against an expected reading of -0.20 percent and November's reading of +0.40 percent. December retail sales not including auto motive also posted a reading of -0.10 percent as compared to expectations of +0.20 percent and November's reading of 0.30 percent.
Mortgage Rates Fall, New Unemployment Claims Rise
Last week's average mortgage rates fell across the board according to Freddie Mac. The average rate for a 30-year fixed rate mortgage dropped by five basis points to 3.92 percent; the average rate for a 15-year mortgage rate also fell by five basis points to 3.19 percent. The average rate for a 5/1 adjustable rate mortgage was eight basis points lower at 3.01 percent. Average discount points were 0.60, 0.50 and 0.40 percent respectively.
New unemployment claims rose to 284,000 against expectations of 275,000 new claims and the prior week's reading of 277,000 new claims. Analysts said that the jump in claims resulted from job losses related to temporary holiday positions, but noted that last year's momentum of falling jobless claims has slowed.
Last week's economic news ended on a positive note; consumer sentiment rose according to the University of Michigan. Lower prices were credited for the boost in consumer confidence in current economic conditions.
What's Ahead
This week's scheduled economic events include the National Association of Home Builders Housing Market Index, Housing Starts, Consumer Price Index and Core Consumer Price Index. No news will be released on Monday due to the Martin Luther King holiday.