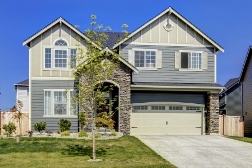 Housing Starts Up in February
Shortages of available homes are a major factor in rising home prices; shortages also make it more difficult for buyers to find homes they want. Housing starts in February rose, which is good news for the peak spring and summer home buying season. Other housing related news released last week included the Fed's decision not to raise the target federal funds rate and Housing Starts and Building Permits reports issued by the Commerce Department. Consumer Sentiment was also released along with regularly scheduled releases on mortgage rates and weekly unemployment claims.
Builder Confidence Holds Steady, Real Estate Pros Call for More Construction
According to the NAHB/Wells Fargo Housing Market Index for March, home builder confidence held steady at a reading of 58. Analysts expected an uptick to 59 based on February's reading of 58. Any reading above 50 indicates that more builders have confidence in housing market conditions than those who do not. The overall HMI reading is based on three components including builder perception of current market conditions, market conditions within the next six months and buyer foot traffic in new home developments.
Builder confidence in current market conditions held steady at a reading of 65. Builder confidence in market conditions within the next six months dropped three points to 65. Builder confidence in buyer foot traffic increased four points to a reading of 43. Confidence in buyer foot traffic has not topped a reading of 50 since 2005.
High demand for homes coupled with a short supply of affordable suburban single family homes compelled NAR Chief Economist Lawrence Yun to comment, "Imbalances in supply and demand and unhealthy levels of price growth in several metro areas have made buying a home an onerous task for far too many first-time buyers and middle class families." Mr. Yun called for builders to double their focus on building single family homes.
Housing Starts Hit 9-Year High in February
Reports on housing starts and building permits issued indicate good news for the shortage of available homes.
The Commerce Department reported that housing starts rose from January's reading of 1.120 million starts to an annual level of 1.178 million starts. Analysts expected a reading of 1.153 million starts. Building permits also increased from January's reading of 1.120 million permits to 1.167million permits issued. Analysts forecasted a reading of 1.210 million in February.
Mortgage Rates Rise, Fed Holds Interest Rate Steady
The Federal Reserve announced its decision not to raise the target federal funds rate on Wednesday. The current rate is 0.250 to 0.50 percent. Policymakers cited concerns over global economic developments as a reason for their decision. This decision quickly showed an impact on Thursday. Freddie Mac reported average rates rose across the board. The rate for a 30-year fixed rate mortgage rose five basis points to 3.73 percent. 15-year mortgage rates averaged 2.99 percent, which was three basis points higher than the prior week's reading. The average rate for a 5/1 adjustable rate mortgage rose by one basis point to 2.93 percent. Discount points averaged 0.50, 0.40 and.50 respectively.
Weekly jobless claims rose to 268,000 against expectations of 268,000 new claims and the prior week's reading of 258,000 new jobless claims.
Consumer sentiment dropped to 90.00 in March against an expected reading of 92.10 and February's reading of 91.70. Consumer outlook is important to housing markets as the decision whether or not to buy a home is typically based on potential buyers' evaluations of job stability and affordability of available homes.
What's Ahead This Week?
This week's scheduled economic releases include reports on new and existing home sales as well as usual weekly releases on mortgage rates and new jobless claims.