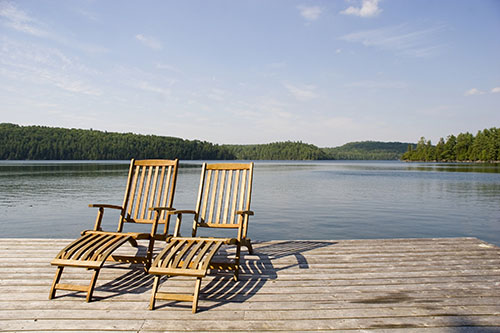 If you're looking to invest in a cottage or waterfront getaway, there are three key things to keep in mind throughout your search.
How's The House?
Even if the lake is the highlight of a property you're considering, it is important to make sure that the home is equally as great as the beautiful body of water it borders.
How's its orientation? Is it built on the ideal angle to take full advantage of the sun? Does the deck or large windows face another house directly? The orientation is an important factor to consider as it can make or break the comfort of the property.
You'll also want to consider the lot itself, as many waterfront properties are not built on level lots, but rather on sloping hills. If this is the case with a cottage you are looking to buy, it is important to have the land inspected to uncover any potential dangers or deficiencies. This is especially significant if you want to pursue further construction on the property in the future.
The waste system is another factor to consider, as many lakefront properties utilize a septic tank or public sewer system, which may differ from what you are used to and could cause more hassle than the home is worth.
Just How Lakefront Is It?
It is also important to consider the proximity of a house to the water, as there are unique risks that come along with bordering on a body of water. If the home is very close to the lake, research the typical rise and fall of water levels throughout the year as well as whether ice or frost develops in winter.
Make sure you have a thorough understanding of the lake specifics as well. Know the lake rules, what types of water crafts are permitted for use, how deep it is, and how busy it is throughout the year. A lake may look beautiful, but it's equally important to ensure it will provide the experience you are looking for as well.
Protect Your Privacy
Lake front getaway homes often come with limited privacy as many properties may face each other across the water. Additionally, since space is limited around a lake, properties may be squished together to make the most of the land that's available, and that can also compromise your privacy. Be sure to check out who you can see and who can see you, and take note of whether or not there are substantial tree barriers between you and your potential neighbors.