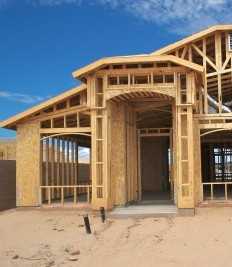 The National Association of Home Builders (NAHB) reported that home builder sentiment lost its momentum in October and posted a seasonally adjusted reading of 54 in its Home Builder Market Index.
This reading was five points lower than expected and also five points lower than September's reading. October's reading was the first time in five months that builder confidence has fallen.
To put October's reading in perspective, things aren't all that bad. A reading over 50 indicates more builders are confident about housing market conditions than not. Also, October's lower reading of 54 after the HMI reading reached a nine-year high in September.
Low Mortgage Rates, Pent-up Demand Expected to Drive Housing Markets
David Crowe, Chief Economist for NAHB said that low mortgage rates, improved labor markets and "significant" pent-up demand for homes all point to continued growth for housing markets.
NAHB reported that builders' views on current market conditions dropped from September's reading of 63 to 57 in October. The confidence rating for upcoming sales fell from 67 to 64. The gauge of home buyer traffic for new homes fell by six points to a reading of 41.
Analysts said that although stronger jobs markets can help would-be buyers get into the market, concerns over ultra-strict mortgage standards are dampening potential home sales.
Multi-family Housing Starts Outstrips Single Family Home Construction
Starts for all types of housing gained 8.60 percent in the first eight months of 2014, but single family housing construction accounted for only 3.10 percent of housing starts between January and August. September's housing starts are set for release today (Friday).
New Jobless Claims Fall to Lowest Since 2005
In related news, the Labor Department reported that weekly jobless claims were lower than expected and also lower than for the prior week. The reading for new jobless claims was 264,000 new claims; this was 23,000 fewer new claims than the prior week's reading of 287,000 new jobless claims filed. A reading of 289,000 new jobless claims had been expected. This was the lowest reading for new jobless claims since April 2005.