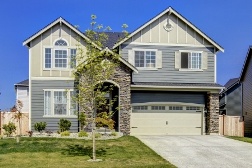 Last week's economic reports included readings on inflation and core inflation, retail sales and consumer sentiment. Weekly reports on new jobless claims and mortgage rates were also released.
Inflation, Retail Sales Higher in April
April inflation grew by 0.20 percent as expected. Core inflation, which excludes volatile food and energy sectors, increased by 0.10 percent. Analysts expected a reading of 0.20 percent. The Federal Reserve monitors inflation readings as part of its research for monetary policy decisions. The Fed set a benchmark of 2.00 percent annual inflation as an indicator of solid economic recovery. Growing inflation could prompt the Fed to raise interest rates in June.
Retail sales grew in April from 0.10 percent in March to 0.40 percent, but fell short of an expected 0.50 percent increase. Retail sales not including the automotive sector rose by 0.30 percent in April, which was the same growth rate posted in March. Analysts expected a reading of 0.50 percent. Growing retail sales indicates that consumers are more confident about economic conditions.
Mortgage Rates Rise, Weekly Jobless Claims Fall
Freddie Mac reported higher mortgage rates last week. The average rate for a 30-year fixed rate mortgage was three basis points higher at 4.05 percent. 15-year fixed rate mortgages had an average rate of 3.29 percent and was two basis points higher than the prior week. The average rate for 5/1 adjustable rate mortgages rose one basis point to 3.14 percent. Discount points averaged 0.50 percent for all three types of mortgages reported.
New jobless claims fell to 236,000 last week as compared to an expected reading of 245,000 new claims and the prior week's reading of 238,000 new claims. Jobless claims remained below the 300,000 benchmark for the 114th consecutive week; last week's reading was the lowest in more than 28 months.
Consumer sentiment ended the week on a positive note with a May index reading of 97.7 as compared to an expected reading of 97.20 and April's reading of 97.0.
What's Ahead
Economic readings scheduled for this week includes reports on the National Association of Home Builders Housing Market Index, Commerce department readings on housing starts and building permits issued. Weekly readings on mortgage rates and new jobless claims will also be released.